HOME

Lord's Supper Upper Room Set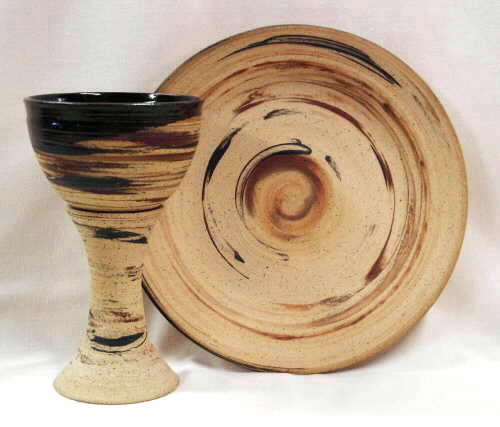 Chalice Height: approx. 7.5"
Paten Width: approx. 9.5"
Price: $100.00 / 2 pc. set FREE SHIPPING
Separately
Chalice: $49.00 FREE SHIPPING

Paten (Plate): $51.00 FREE SHIPPING

---
This is our plain plate and chalice in the "Memorial" pattern. There is no carved cross on the chalice because the pieces are made for use in a Lord's Supper drama, Upper Room, or passion play. (For version WITH cross, see "Intinction Set" and select Memorial pattern.) We've tried to create something rustic and attractive which will give a feeling of age and simplicity to the table. Ideal for Lenten worship services. It is a combination of earth-tone colored clays, glazed only on the inside and rim of the chalice, in a dark brown. This is a rustic-looking design - warm, earthy and un-polished, and very one-of-a-kind. We feel that it seems to convey a sense of history. Though it is made of sturdy stoneware, it has an earthenware appeal. Some have said it looks like wood. This pattern is called Memorial for the church where Debra grew up, Memorial Christian - where each year the "Lord's Supper Scene" dramatic presentation was enacted.

The variegated coloration in the unglazed clay will be different in each piece - expect variations! The chalice and plate are the same size as in our congregational sets (see Congregational Sets.) The Chalice will contain approximately 10 to 12 oz. Another good choice for the Lord's Supper scene is the smaller travel size in Memorial pattern, if you prefer (see Travel Sets.)


Coordinating Flagon also available. Plain Memorial pattern pitcher, one quart capacity. Comes with stand.
Flagon and Stand (Memorial pattern)
Price: $67.00 FREE SHIPPING


Upper Room Congregational Set - Chalice, Paten, Flagon with Stand
Price: $167.00 FREE SHIPPING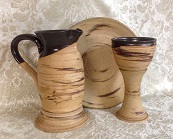 ---






---

For an even more plain style, see our "Natural" pattern:
Natural
More Communion Ware

Glaze Samples and Descriptons
---
©Ocepek Pottery 1981-2023
All designs copyrighted